Thierry Clerc practices in Cambridge (UK) as a clinical homeopath and a nutritionist. He is a regular contributor of several national and international health magazines.
The lovely Suzie Thorpe, from Cambridge105, a local radio, contacted me in 2016 to see if I would be interested in giving a talk about nutrition and lifestyle.
After reading my article about science showing that sports is not key to fight obesity (proper nutrition is!), she asked me to come for an early year interview at the Cambridge105 Radio office in the centre of Cambridge.
To listen to the interview, check here: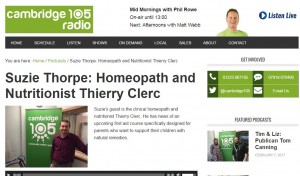 Thierry Clerc, MARH, RHom, MSc
Registered Health Practitioner, Cambridge (UK)
Clinical Homeopathy, Metabolic Balance, Nutritional Therapist
"Sports not key to Obesity" Radio Interview